Aqua Cure has been a long-time supporter of Aquatech Amsterdam, as both a visitor and an exhibitor.
Aqua Cure Business Development Manager Stuart Godfrey was delighted to represent Aqua Cure when he attended earlier this month. "Aquatech is widely regarding as the 'World Water Show'," says Stuart "making it an important arena for Aqua Cure to introduce ourselves to new customers as well as identify new products and technologies we are eager to work with and distribute. The show also provides the chance to catch up with key supply partners and expand on existing relationships."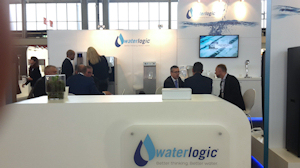 "It was good to see some of our key suppliers such as Pentair / Everpure, Doulton, John Guest and DMfit occupying some some of the biggest stands at the event and showcasing their vast arrays of products, the bulk of which are available on an overnight carrier from Aqua Cure's UK warehouse."
Aqua Cure were also represented at the illustrious Waterlogic dinner that concludes Aquatech every year, this time by Managing Director Mark Brown. "It brings together their worldwide distribution partners and key figures," says Stuart "it's a very special night."
Unfortunately we have no pictures of that...