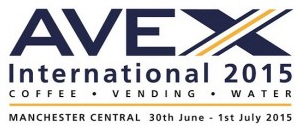 Aqua Cure are very pleased to be back at AVEX for the 2015 event, to be held at Manchester Central on 30th June and 1st July.
Focusing on the coffee, vending and water industries, AVEX will see 101 exhibitors and over 3,000 visitors during its two days.
Aqua Cure will be at stand 52 where we will be ably supported by our supply partners Pentair Everpure. Accordingly we will be displaying a number of items from Everpure's diverse product range including a full set of Claris Ultra cartridges, the MRS reverse osmosis unit for the food service market and a selection of ice machine, coffee machine, cold cup and water fountain filters.
We will also be be distributing Everpure's Water For Coffee Lovers booklet on the stand to promote the importance of water in making the perfect brew.
As an amusing aside, AVEX 2015 will be celebrating the anniversary of the invention of the vending machine.
Now, how long ago do you think the first vending machine was built?
100 years ago?
200?
Guess again... the first coin operated vending machine was designed and built 2000 years ago in ancient Greece by the mathematician and engineer Hero of Alexandria. Hero's device, which resembled a large vase, dispensed holy water when a coin was inserted, thus freeing up the temple priests to deal with more pressing matters.
To see how the vending industry has progressed in the last two millennia, visit the AVEX International 2015 vending conference, not forgetting to stop by the Aqua Cure stand. To make an appointment to see how we can save you money on maintenance for mains-fed vending or coffee machines, please contact us.