3M ScaleGard Pro Filter Cartridges Range
The 3M ScaleGard Pro system is a disposable scale control system designed to protect Vending Machines and Coffee Machines equipment from scale build up. The range combines high capacity ion exchange resin and a carbon block with the convenience of a disposable cartridge.
Available in 4 cartridge sizes with capacities ranging from 1,600 litres to 3,800 litres (based on water hardness levels of 180ppm).
Consider this alternative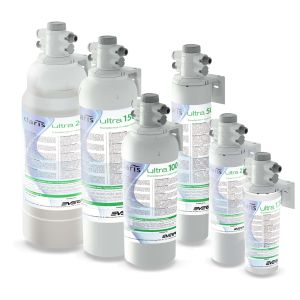 Grouped product items

| Name | Capacity | Flow Rate | Price | Availability | Qty |
| --- | --- | --- | --- | --- | --- |
| Code SGP124BNC | | 1.9 lpm / 0.5 gpm (US Gallons) | | | Add to Favourites |
| Code SGP165BNC | | 3.8 lpm / 1.00 gpm (US Gallons) | | | Add to Favourites |
| Code SGP195BNC | | 3.8 lpm / 1.00 gpm (US Gallons) | | | Add to Favourites |
More Information

| | |
| --- | --- |
| Brand | 3M |
| Micron Rating | 1 |
| Filter Type | Carbon Block |
| Max. Water Temp | 38°C / 100°F |
| Overall Dimensions | METRIC - Including Head ScaleGard Pro 124 - 502mm (h) x 102mm (dia) ScaleGard Pro 145 - 339mm (h) x 102mm (dia) ScaleGard Pro 165 - 409mm (h) x 102mm (dia) ScaleGard Pro 195 - 562mm (h) x 102mm (dia) IMPERIAL - Including Head ScaleGard Pro 124 - 19.76" (h) x 4.02" (dia) ScaleGard Pro 145 - 13.35" (h) x 4.02" (dia) ScaleGard Pro 165 - 16.10" (h) x 4.02" (dia) ScaleGard Pro 195 - 22.13" (h) x 4.02" (dia) |
| Filter / Cartridge Lifetime | Up to specified capacity or 12 months, which ever comes first. |
| Min. Working Pressure | 1.7 bar / 25 psi |
| Max. Working Pressure | 8.75 bar / 125 psi |
| Specification Notes | *Capacities are based on influent water hardness of 180 ppm with 25% bypass settings. |