John Guest Speedfit manufactures more push-fit fittings and tube than anyone else in the world. These fittings have provided reliable plumbing and heating systems for over half a century and John Guest fittings are commonly used in the brewery, plumbing and car industry.
What is a push-fit fitting?
Speedfit products use unique seals and internal grips to create a reliable leak-proof join in fittings that can be easily connected by hand with no specialised tools required, you simply push on to fit. John Guest estimates that the fittings can cut installation times by 40%, saving significant amounts of time on even simple plumbing jobs. With no tools required, it's easier to manoeuvre in tight spaces making it easy to install or disconnect John Guest fittings just about anywhere.

What applications can they be used in?
John Guest fittings come in wide range of sizes to suit both domestic and commercial applications. The extensive range includes plastic, brass and chrome fittings, tap connectors, valves and flexi hoses and by combining these products with plastic push-fit pipe, you can build reliable plumbing and heating systems. John Guest fittings are suitable for hot and cold water applications, including central heating systems.
Why use John Guest fittings?
John Guest Speedfit fittings are precision engineered, are rigorously tested and are WRAS approved for use with plastic or copper pipe.
John Guest Features
Connect and dismount instantly
Collet with stainless steel teeth grips pipe
Push-fits contain an O-ring which creates a permanent watertight seal
Lead free and non-toxic
Corrosion free and scale resistant
John Guest Benefits
No tools required – install in seconds with no soldering or welding
Less labour intensive
Easier to install in tight spaces
Fewer joints means less potential for leaks
Cooler surface temperatures than copper pipes
Tested and Accredited
John Guest fittings are accepted by many of the world's best known beer and beverage producers and by drinks dispense equipment manufacturers due to their high quality and reliability. John Guest products have received approvals from leading testing and quality control authorities such as WRAS and UKAS (ISO9001). All John Guest plumbing, drinks dispense, pipe and tubing ranges have received NSF certification under NSF 14, 51 or 61 and all of John Guest's acetal and polypropylene fittings and LLDPE tubing meet EC directives for food contact materials.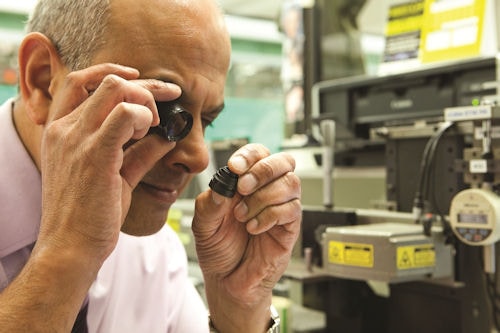 What types / sizes of John Guest fitting are available?
John Guest fittings are available in a staggering variety of shapes, sizes and connection types. As well as push-fit connections, John Guest fittings come with threaded connections enabling you to connect easily to existing systems and pipework. And as well as connectors and adaptors there is a wide range of valves, dividers, tees, tubing and pipes, end stops, manifolds, braided tap connectors – if you need it, we can supply it.
The majority of fittings Aqua Cure stock come from John Guest's 'Drinks Dispense & Pure Water' and 'Speedfit Plumbing and Heating ranges'.
John Guest Adaptors
John Guest adapters are designed to adapt different connections to fit. I.e. they might have a male threaded connection on one side and a stem on the other. Or a female threaded connection on one side and a push-fit on the other.
John Guest adapters come in a variety of sizes all of which are suitable for potable liquids as well as pure water applications, though they are not suited for compressed air and vacuum applications. They have a high chemical resistance and all fittings in the John Guest range are made in the UK. Our most popular adapters include: female adapters and stem to stem adapters.
See our range of John Guest adaptors.
John Guest Connectors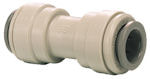 John Guest connectors are designed for connecting tubing or pipes of an equal or different size. Equal straight connectors for example will join tubing of the same size while a selection of reducing connectors allow you to connect tubing or different diameter directly to each other. John Guest also supply bulkhead connectors which are designed for passing tubing through a bulkhead. Tube to hose stems allow you to connect different types of pipework directly.
The John Guest connectors are suitable for both hot and or cold water and central heating systems and they can be installed quickly and easily thanks to their unique push-fit connections.
See our range of John Guest connectors.
John Guest Elbows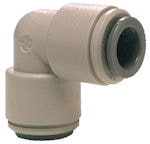 John Guest elbows are similar to the connectors described above but they turn though a 90 degree angle. As with connectors, they come with equal connections or as reducing elbows. There are also John Guest elbows which connect threads to push-fits and these come in two types, rigid elbows or swivel elbows. Rigid elbows have a male thread on one end of the fitting which when screwed in keeps the fitting rigidly in place. A swivel elbow is made up of a push-fit elbow with a straight adapter connected to it which allows the elbow to swivel through 360 degrees.
See our range of John Guest elbows.
John Guest Tees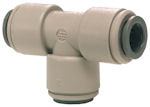 John Guest tees are 't' shaped 3 way fittings. They come as equal tees with all three equally sized connections and reducing tees where one connection is a smaller size. We also stock John Guest swivel male run tees which feature a male connection which allows the fitting to spin, just like a swivel elbow. And lastly we also stock a John Guest branch stem tee which combines two ¼" push-fit connections with a ¼" stem. John Guest tees all have a high chemical resistance.
See our range of John Guest tees.
John Guest Tubing
John Guest tubing is designed to be lightweight and easy to work with. It is constructed from LLDPE (Linear Low Density Polyethylene) and is available in lengths ranging from 1 metre up to 500 foot coils, meaning fewer fittings are required for larger installations. The tubing comes in both metric and imperial diameters and are colour coded to aid identification.
John Guest tubing is suitable for both hot and cold water applications and is compatible with a broad range of chemicals. John Guest tubing is also FDA and NSF certified. The most popular tubing sized are 1/4" in the cooler industry and 3/8" in vending installations. Fittings are available which allow you connect John Guest tubing to mains copper pipe quickly and easily.
Contact us for details if you need more advice or see our range of John Guest tubing.
John Guest Pipe
John Guest pipe differs from tubing in that it generally comes in larger diameters and is made of either polybutylene or multi-layered high-density polyethylene (PEX). Polybutylene is a slightly softer material that polyethylene making polybutylene pipe better for installations where flexibility is required, for example when cabling through joists. John Guest refer to their polybutylene pipe as 'Layflat' pipe because it lays flat after being removed from the coil and doesn't retain its 'memory' if coiled or curved.
Both John Guest's PEX and polybutylene pipe have a low thermal conductivity which means they stay cool to the touch even when carrying hot water. Both types of pipe are suitable for central heating systems and are lead-free and non-toxic.
See our range of John Guest pipe.
John Guest Valves
We supply a wide range of John Guest valves which feature push-fit connections to make them quick and easy to install or dismount. John Guest valves are available in acetal or polypropylene with polypropylene offering higher chemical resistance. Types of valve include shut-off valves and stop valves for manually turning a water supply off and on. Single check vales which prevent the flow of fluid reversing, double check valves which comprise two single check valves and prevent prevention of contamination caused by back siphonage, back flow or cross connection; and screwdriver operated service valves which provide a temporary shut-off facility in drinks dispense applications.
Aqua Cure also stock John Guest three-way ASV valves. These comprise angled stop valves with three connections, a shut off and a check valve and are designed to allow easy installation of water coolers, water filters and vending machines.
See our range of John Guest valves.
John Guest Dividers and Y Pieces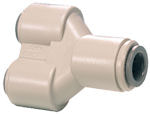 John Guest two-way dividers are available in both imperial and metric fittings. We also stock a limited number of three-way fittings. Aqua Cure's John Guest Speedfit range generally includes items from the drinks dispense range but we do offer a limited number of John Guest dividers for pressurised air or gas.
See our range of John Guest dividers and y pieces.
John Guest Half Cartridges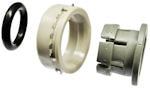 John Guest half cartridges comprise a collet, a gripper and a high-quality O ring and allow you to add your own John Guest push-fit connections to items such as manifolds for easier installation.
See our range of John Guest half cartridges.
John Guest Collets and Locking Clips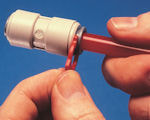 Collets are the circular pieces inside a John Guest push-fit that clamp on to the pipe. Pushing the collet inwards releases the pipe. Collets can be 'locked' with a collet locking clip which prevents the collet being pushed in (either accidentally or on purpose) to release the pipe until the locking clip has been manually removed. Aqua Cure stock a range of spare collets and collet locking clips.
See our range of John Guest collets and clips.
John Guest End Stops and Plugs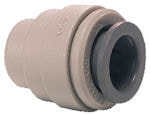 John Guests end stops fit onto plastic or copper pipework where a termination is required and can be easily removed again should pipework need to be extended. John Guest plugs perform the same function but fit inside pipework rather than capping them. Being able to terminate pipework without brazing or other hot works is a major benefit in confined spaces as well as being up to 40% faster.
See our range of John Guest end stops and plugs.
John Guest O Rings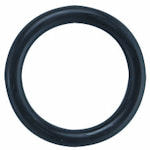 O rings are tiny elastomer (rubber) rings that sit inside John Guest push-fittings to create a durable watertight seal. We stock spare o rings in a variety of sizes.
See our range of John Guest o rings.
John Guest Appliance Taps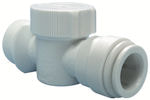 John Guest appliance taps and tees are part of the push-fit plumbing fittings range, rather than the drinks dispense range and they are effectively isolation valves to allow easy maintenance or installation of appliances such as dishwashers or washing machines.
See our range of John Guest appliance taps.
John Guest Tools
John Guest produce a range of tools to make their already fast and simple push-fit system even easier to use. From a John Guest collet locking tool which aids in releasing and locking John Guest fittings quickly to John Guest tube cutters and pipe cutters which are specifically designed for cutting John Guest brand tube and pipe to size. Heavy duty pipe cutters and spare blades are also available.
See our range of John Guest tools.
John Guest U Bends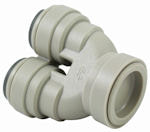 A John Guest U bend is designed to act as a miniature plumbing trap or to allow pipework to change direction through 180 degrees inside a small footprint. Aqua Cure supply a selection of John Guest U Bends with both imperial and metric fittings.
See our range of John Guest u bends.
John Guest Double Check Valves
Double check valves are also known as non-return valves as they ensure that fluid can only flow in only one direction (i.e. it can't return to the source). This protects water supplies from contamination caused by backflow.
Double check valves contain two separate check valves which provides extra security should one check valve fail. Many water applications require a check valve by law, for instance, to ensure that once water has entered your property, it cannot flow back into the mains supply.
See our range of John Guest double check valves.

How do I select the right John Guest fitting?
Aqua Cure are an official distributor of John Guest fittings and we know the range inside out and back to front! If you're having any difficulties identifying the fitting you need, please contact us and we'll be happy to help.
Which supplier should I choose for my John Guest fittings?
Aqua Cure are proud of our many years in the water treatment business and consider ourselves water purity experts. We have been supplying John Guest products since 1990 and though we specialise in John Guest's Drinks Dispense and Pure Water range, we have plenty of technical knowledge pertaining to their plumbing range as well. We even have a handful of fittings for pressurised air or gas amongst our stock.
As well as technical advice, we keep large stocks of all John Guest's most popular fittings to buy online, whilst our next day delivery service means you can get them delivered without delay. So if you need John Guest, have a look at our full range of John Guest products online.
In the trade? Apply
for a trade account
for big discounts