If you're a regular frequenter of high street coffee chains, you can't help but have noticed the word 'barista' written on the shirt of the person who serves you your frappe-latte-chino. But did you know (such is the UK's coffee fixation) that there's actually a UK Barista Championship?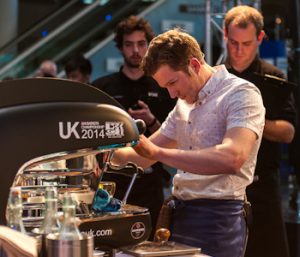 It's organised and hosted by Essential Cafe Magazine and sanctioned by the Speciality Coffee Association of Europe (SCAE) with the finals taking place at the London Coffee Festival on Sunday 6th April next year. It's a serious affair, with strict time constraints and a panel of two technical judges and four sensory judges giving scores to each barista.
As you'd expect, the baristas in question are provided with the best raw ingredients to make the four espressos, four cappuccinos and four espresso-based speciality drinks that they will be judged on. As such, it's no surprise that Pentair filtration products have been specified to treat the water used during the competition.
Tony Monks, marketing manager at Pentair Foodservice, believes that the quality of Pentair's filtration products is an ideal match for the baristas perfectionism, saying "We are delighted to be the water sponsors for the SCAE UK Barista Championships 2015, hosted by our good friends at Essential Café Magazine. We share the same passion for quality as the baristas striving to reach the very top of their game and so are delighted that our products will be used to help the contestants create the very best beverages they can in their quest to be crowned the UK's very best."
Aqua Cure will also be in attendance at the London Coffee Festival (more on this soon). For more on both the Coffee Festival and the UK Barista Championship, please see their respective websites.
http://www.londoncoffeefestival.com/
http://scaeuk.com/uk-barista-championship.php
Image courtesy of Kate Beard.