Water filter jugs work by utilising a small filter placed inside the jug or in the lid of the water jug. What if you could use the same filtration technology but the water came straight from your tap? We dive into the alternatives to water filter jugs and look at the best options on the market to proivide water filtration in your home.
The Best Water Filter for Your Home
The average human body is made up of an incredible 50 – 75% water, and the brain about 70%. Staying hydrated is therefore essential in keeping us physically and mentally healthy. The NHS recommends drinking 6- 8 glasses of water per day to retain healthy hydration levels, however, it is thought that less than 1% of British people follow these guidelines.
There are numerous reasons as to why we don't get our daily fill of water, one of those could be if you don't like the taste, smell or appearance of the tap water in your home – another is if you are concerned about contaminants in the water supply - which is where a water filter comes in. Whether attached directly to your mains water supply, using a jug or a bottle, a water filter is a fantastic means of ensuring safe, great-tasting water in your home.
Why Do You Need a Water Filter in Your Home?
The UK's water supply is considered to be one of the best in the world – subject to stringent testing and regulation to make sure it is safe.
That said, there are several water quality issues which can affect the quality of drinking water, including:
Get Bottled Water Taste, Without The Plastic Waste
Love the taste of bottled water? There are a few clear downsides to this: namely the higher cost to buy vs tap water as well as environmental concerns because of the waste plastic generated. water filters at home allow you to get the taste of filtered water without the plastic waste.
There are many different water filtration options for making your water more palatable or to simply guard against water safety issues, So, without further ado, please see our guide to the Best Water Filters for Your Home.
Best Under-Sink Water Filter:
Designed to fit under your kitchen sink, this type of filter fits directly on your mains supply and means you'll receive filtered water 24/7 via the kitchen water filter tap.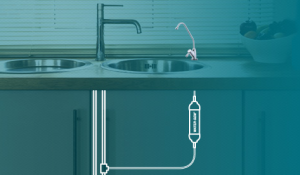 Many of these types of filter can be easily installed without the need of a plumber, although always check the instructions carefully. After installation it's simply a matter of replacing the filter cartridge to keep it functioning correctly.
As this is such a popular type of water filter, we have chosen two systems best-suited to different budgets:
Low-cost: Water Gem DIY Water Filter System.
The Water Gem DIY Filter System utilises an activated carbon filter to reduce chlorine taste and odours – a common complaint for people who dislike mains supply water in the UK.
In addition, the filter is also ideal for households in hard water areas as it works against limescale build-up which can make water appear cloudy and affect appliance functionality.
The system can easily be installed without the need for plumbing skills, whilst the cartridge replacement (required after 2,500 litres of use or 6 months) is a simple 'push fit' fitting.
View more at: Watergem Official Website
Premium: Everpure BW400 Water Filter System.
The Everpure BW400 water filter system is a premium water filter system which has an advanced micro-pure 0.5-micron filter. This ultra-fine filter helps to reduce harmful bacteria and chemicals such as fluoride which can affect taste and odour.
This sophisticated filter system means your household will be protected against a range of water quality issues including removing particulate such as dirt, rust, asbestos fibres, oxidised iron, manganese and sulfides as well as protecting against harmful water-borne bacteria such as Giardia, Entamoeba and Cryptosporidium.
Best Water Filter Jug:
ZeroWater 5-Stage Water Filter Jug with Free TDS Meter 1.7L
Water filter jugs are a simple solution for improving the quality of your drinking water, simply fill up and let the water be filtered by the inbuilt mechanism. Their disadvantage against a water filter system is they don't provide 'instant' filtration and cartridges often need replacing more regularly.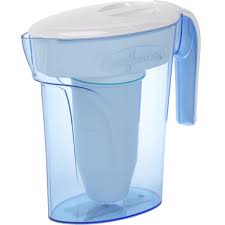 In the crowded marketplace of water filter jugs, ZeroWater's 7-cup water filter jug stands out for its ergonomic design and enhanced filtration capabilities.
Designed specifically to fit in standard UK fridge doors, the jug also has an ingenious sealed lid and reservoir meaning you can pour water out from the 1.7L reservoir whilst new water is filtering through the system.
The water filtration system itself combines five technologies to remove all dissolved solids including lead and chromium, as well as removing the sometimes-unpleasant chlorine taste from the water.
Best Water Filter Tap:
Abode Pronteau 4 in 1 Hot Water Tap Range.
Water filter taps are a unique filtration solution as they include the tap itself as well as an under-sink filtration system.
The Adobe Pronteau 4-in-1 Hot Tap Range is a premium water filter tap that delivers four different water types depending on the required usage. These are:
Unfiltered 'everyday' cold water
Unfiltered 'everyday' hot water
Instant-filtered pH balanced cold water
Instant-filtered pH balanced steaming hot water
The boiling hot water is delivered using the boiler unit which can also be housed under the sink. The filtration system is a superfine 5-micron carbon block with scale filter, effectively removing chlorine taste and odour whilst providing adjustable water hardness settings depending on usage.
The Adobe Pronteau 4-in-1 is a comprehensive water filtration system allowing for specialised water requirements in the home.
Best Countertop Water Filter System:
Doulton HCV Counter Top Housing with Ultracarb Candle.
Counter-top water filters are ideal for people who want a portable water filter that can be easily transported. Perfect for caravans, boating and camping this moveable filter is suitable for rental homes where installations are not allowed or if you move house regularly.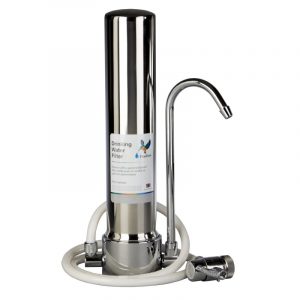 Doulton are one of the oldest and most reputable names in water filtration, and this stainless-steel counter-top filter system maintains their consistently high standards.
As a water filter housing, this system can accommodate different types of water filter cartridge depending on the specific water quality issue you are experiencing in your home.
Best Under Sink Chiller Water Filter:
Iceberg Under Sink Chiller.
This type of water filtration system provides chilled water direct from a dedicated tap.
The Iceberg under sink chiller lives up to its name, sitting under the sink and dispensing 11.5 litres of chilled and filtered water (7°C) per hour.
The quiet and discreet refrigeration unit fits easily in a base cupboard in your kitchen. The system is fitted with a replaceable Hydro+ 10" granular activated carbon (GAC) filter with scale inhibitor for taste, odour, chlorine and limescale reduction.
For households that require cool, filtered water at point-of-use, the Iceberg Under Silk Chiller cannot be beaten.
Summary
There's no doubt that choosing a water filter system can be a daunting prospect, it's a specialist product that really depends on what issue you are experiencing with your water.
If you are struggling with the jargon and find yourself more confused than at the start of the article, please feel free to contact Aqua Cure's team of water treatment experts, who can make a more tailored suggestion for your requirements.
We have tried to choose the best water filters based on our experience in the industry.
You Might Like:
Dont know the difference between a micron and a moose? Not sure about which filter type is best for you? Learn more about how water filters actually work.
The UK's municipal water supply is among the best in the world and we all take it for granted. But what's really in the tap water we drink every day?