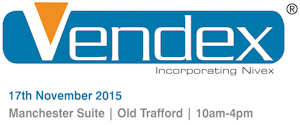 Aqua Cure are proud to be exhibiting at Vendex North 2015. The one day vending show is taking place at Old Trafford on Tuesday 17th November and has more than 70 exhibitors signed up.
Aqua Cure will be present at stand G18 where Alex and Adam will be happy to speak to you.
Vendex aims to provide a "convivial, yet buzzing atmosphere" where both buyers and sellers can do "good business in a friendly environment". This is aided by Vendex's policy of free car parking and free entry in order to make attendance as easy as possible. If you're quick, there's also the possibility of a free lunch and a free goody bag, though the latter is strictly first come, first served.
Please see the Vendex website for more details.